Here's a better way to ventilate bathrooms
Discover how VentZone can save installers on installation, time, and materials while giving homeowners effective bathroom and whole-house ventilation
American Aldes VentZone® IAQ systems are the only central ventilation systems available that provide precisely regulated whole-house Indoor Air Quality and centralized bathroom fans in a single, highly effective and efficient ventilation kit. Each kit has the capability to provide low continous IAQ ventilation and zone-based on-demand "boost" ventilation.
Install bathroom exhaust ventilation in all the bathrooms using fewer materials than with traditional bathroom fans
Only one exterior vent or roof cap is need rather than one for each bathroom, so installation is quicker
Fewer outside penetrations means there's less chance of rain, bugs, or other problems
Why builders and installers choose VentZone®
Continuous low-volume fresh air circulating throughout your home, clearing pet odors, toxins from cleaning supplies, stale air, and cooking odors
Boost ventilation in each bathroom quickly clears odors and humid

ity from the bathrooms when needed
Protects one of your biggest investments, your home, from mold and mildew
The ventilator (fan) itself is located away from the bathrooms, usually in an attic near the outside wall, so there's no noise at the grille
Why homeowners choose VentZone®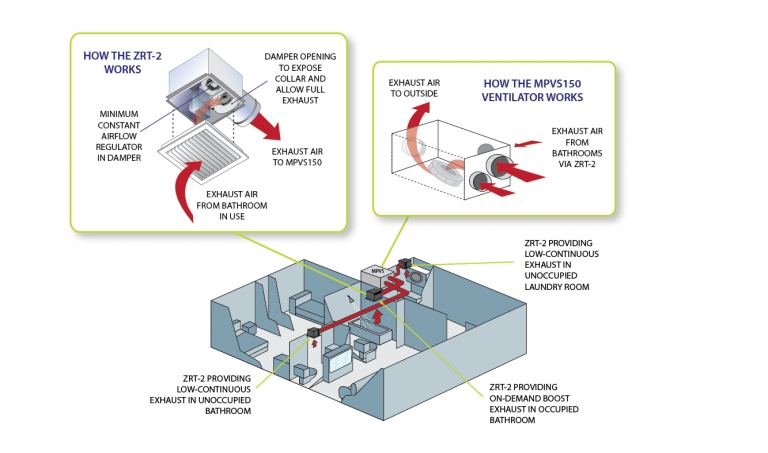 How it works: The patented Zone Register Terminals ® (ZRTs) replace traditional bathroom fans or static grilles. When the ZRT damper is closed, it provides low-level continuous whole-house ventilation through a constant airflow regulator. When boost airflow is needed (when the homeowner turns the fan on in the bathroom), the ZRT damper opens and air is exhausted. When the boost is no longer needed, the ZRT closes and the airflow returns to low-level continuous ventilation.
The system provides boost ventilation to the bathrooms in use, whether that means just one bathroom or multiple bathrooms at at time. All ZRTs are ducted to a central Aldes ENERGY STAR certified multi-port ventilator, so there's no fan noise at the grille, and only one outside penetration is needed, as opposed to traditional bathroom fans that typically require an outside penetration for each bathroom.
Pro: Ability to ventilate each bathroom as needed
Con: Purchasing, installing, and ducting a fan for each bathroom is expensive and time-consuming
Traditional Bathroom Fans vs. Centralized Ventilation
Pro: No need to purchase, install and duct a fan for each bathroom
Con: Boosts all fans at once, even when boost is only needed in one bathroom
With VentZone®, you get the PROS of both without the CONS
Pro: Ability to ventilate each bathroom as needed
Pro: No need to purchase, install and duct a fan for each bathroom
PLUS: Low-level continuous ventilation for whole-house IAQ
American Aldes: Experience You Can Trust
American Aldes takes a proactive approach to providing ventilation for schools of all sizes. By working with American Aldes, building designers can specify ventilation systems that meet codes and standards, provides school districts with high quality products that align with their budgets, and ensures students breathe healthy indoor air.
Since 1983 American Aldes has been providing ventilation solutions for residential and commercial buildings, including a variety of educational settings from elementary schools through university campuses. We do more than provide systems for new builds; we work with engineers on renovation projects, providing custom retrofit solutions tailored to each project's unique situation. We're a member of the US Green Building Council, the Home Ventilating Institute and are an ENERGY STAR partner.
American Aldes understands the challenges engineers and contractors face in providing ventilation that meets code requirements. Our experts are on hand to answer your questions and help you select the right products for the job.
We're committed to providing you with the tools and information you need. From brochures and spec sheets to installation manuals and warranties, we stand behind our products from specification to installation and beyond.
4 ways to take the next step

American Aldes is the premier manufacturer of ventilation products for homes, multi-family dwellings, hotels, schools and numerous other residential and commercial applications. Products are designed for superior airflow control, energy-efficient performance, and healthy indoor environment.
American Aldes is based in Florida and is a subsidiary of the ALDES Group, an international, family-owned group of more than 1,300 employees and 17 subsidiaries in 13 countries.
Copyright 2017 American Aldes Ventilation Corporation. All rights reserved.